Posts Tagged 'mealsonwheels'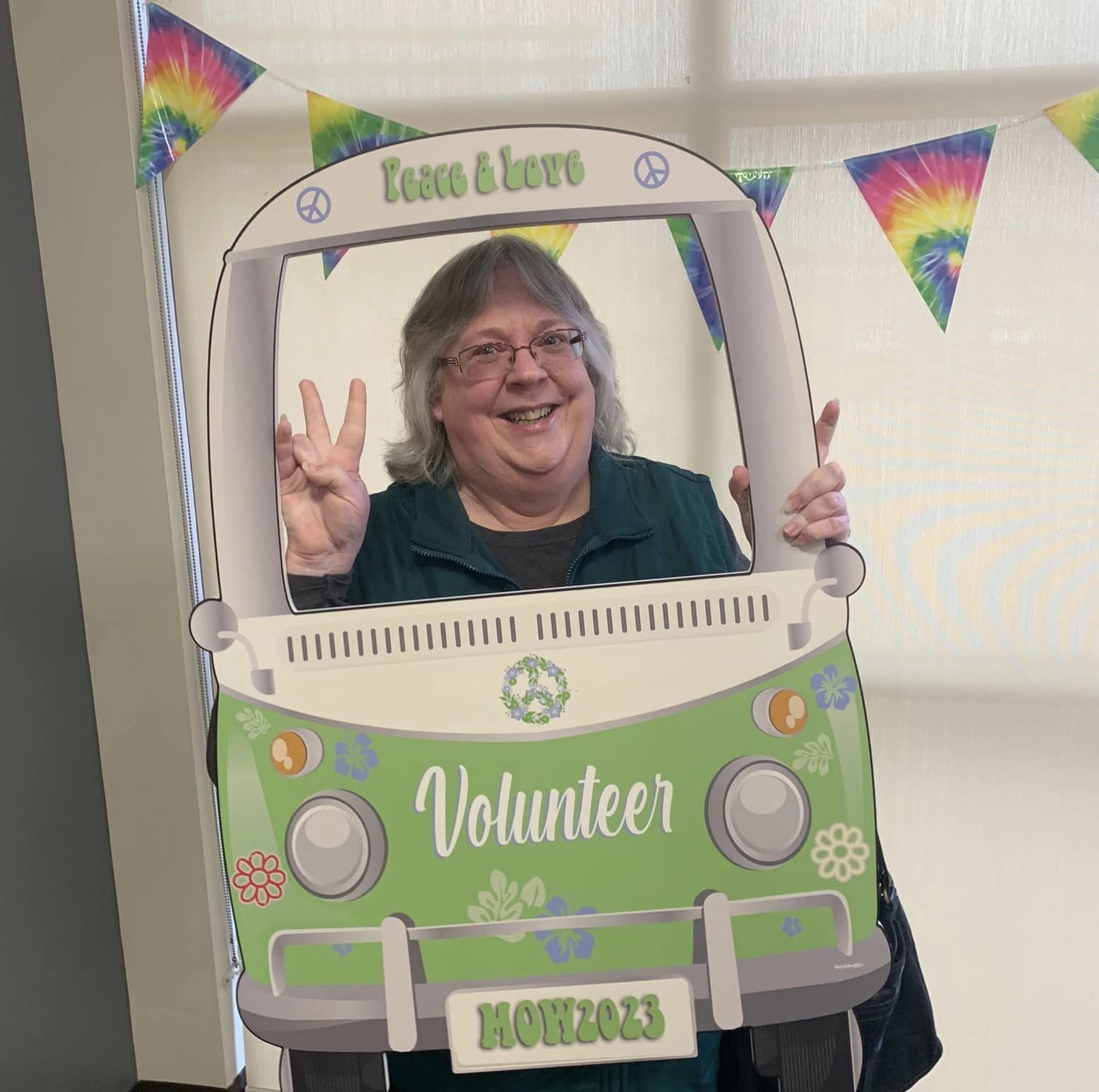 When Meals on Wheels of Hancock County volunteer Trish Mendez delivers to clients on her routes, her work with Random Acts of Flowers Indianapolis comes into play to brighten their days with bouquets.
One client with cancer, whose son died of COVID last spring, had been isolated and depressed.
A small bouquet made all the difference.
"She was really, really depressed," Trish said. "That's not something you just get over. She limits contact because of her compromised immunity and doesn't come to the door. I thought by bringing her flowers, that could perk her up. I just try to do that every two or three weeks."
Another client feeling especially isolated was extremely delighted to receive her surprise bouquet.
"She said, 'I haven't got flowers in so long,'" Trish said. "It made her so happy."
Random Acts of Flowers' mission is to improve the emotional health and well-being of individuals by delivering recycled flowers, encouragement, and personal moments of kindness. That mission inspired Trish to combine it with Meals on Wheels of Hancock County's goal of preventing isolation and loneliness in the aging community.
"It's just a cool thing," Trish said. "It just shows you how something that is going to be thrown out can be used for happiness. It's such a worthwhile charity."
On days Trish isn't delivering Random Acts of Flowers bouquets, she stops by a local supermarket that sells flowers to treat neighbors on her Meals on Wheels routes.
"I just pick up flower bouquets and split them up," she said. "It's just $10 bucks, so why not?"
Trish said it's the surprise factor that really makes people's days.
"Sometimes the surprise of getting something like that is all they need to cheer them up," she said. "I just tell the ladies if you get the vases back to me, I'll bring them back with flowers. It's a full circle."
Trish's clients, especially those battling health issues and experiencing loneliness, have a whole different outlook on their day when receiving meal deliveries.
"Everybody is happy to see me," Trish said. "Sometimes you're the only person they see that day. It's fun to say, 'Here's your meal, and here's your flowers.'"
The flower deliveries help Trish, too.
"Personally, I like that they are happy to see me," she said. "My problem is there's not enough time to volunteer. I'm busier now than when I worked, but that's fine!"
Trish recently found that her flower deliveries were not only great pick-me-ups for Meals on Wheels' clients, but also staff, including Packing Coordinator Michelle Elsbury.
"I gave Michelle flowers because she said something about her mom being sick," Trish said. "She needed some happiness. And flowers do not cost that much."

Lifesaving. That's how one Meals on Wheels of Hancock County client describes the impact our medically tailored deliveries have made on her since enrolling in the program this year.
"Arthritis has plagued my family for years, and now, in my 60s, I'm to the point where I can no longer drive or work," she said. "And I cannot cook for myself."
This client came to the Indy area 10 years ago to help care for her elderly parents. She also had a brother and sister who were ill. Over the years, she has worked as a certified nursing assistant, home health aide and companion caregiver. Her experience working with seniors in their homes informed her about the benefits of Meals on Wheels programs.
"I used to work with clients in their homes, and saw first-hand how much the meals helped," she said. "The volunteers are so kind and wonderful, and I appreciate the calls, and we text when I might not be able to get to the phone right away."
Chronic arthritis pain and a cancer diagnosis has made daily life a challenge. Arthritis makes it especially difficult to stand for any period of time. Her mobility is challenged on the daily, and fear of falling is a constant concern.
"I have arthritis in both of my ankles, both of my ankles, in both of my knees and hips. From my waist down, I don't work very well," she said. "I'm so afraid of falling because my knees lock up on me. I worry if I fall in the kitchen, I can't pull myself up. I have a big fear of falling."
Cooking even a small meal has been difficult. She often has cereal on hand since she said pouring a bowl is sometimes the easiest. Just to stand at the stove or kitchen sink can be hard. With this in mind, and knowing how much Meals on Wheels helped her former home healthcare clients, she gave Meals on Wheels of Hancock County a call.
"I just can't stand at the stove to make something great. Every once and awhile I can," she said.
Meals on Wheels weekday deliveries also help since she's on a limited budget.
"I don't make a lot of money in my retirement," she said. "Meals on Wheels has been a lifesaver for me. I can get two meals a day. I'm very grateful for Meals on Wheels. For a long time I was afraid I would starve to death. I now no longer have a fear of starving. It's just been a lifeline for me."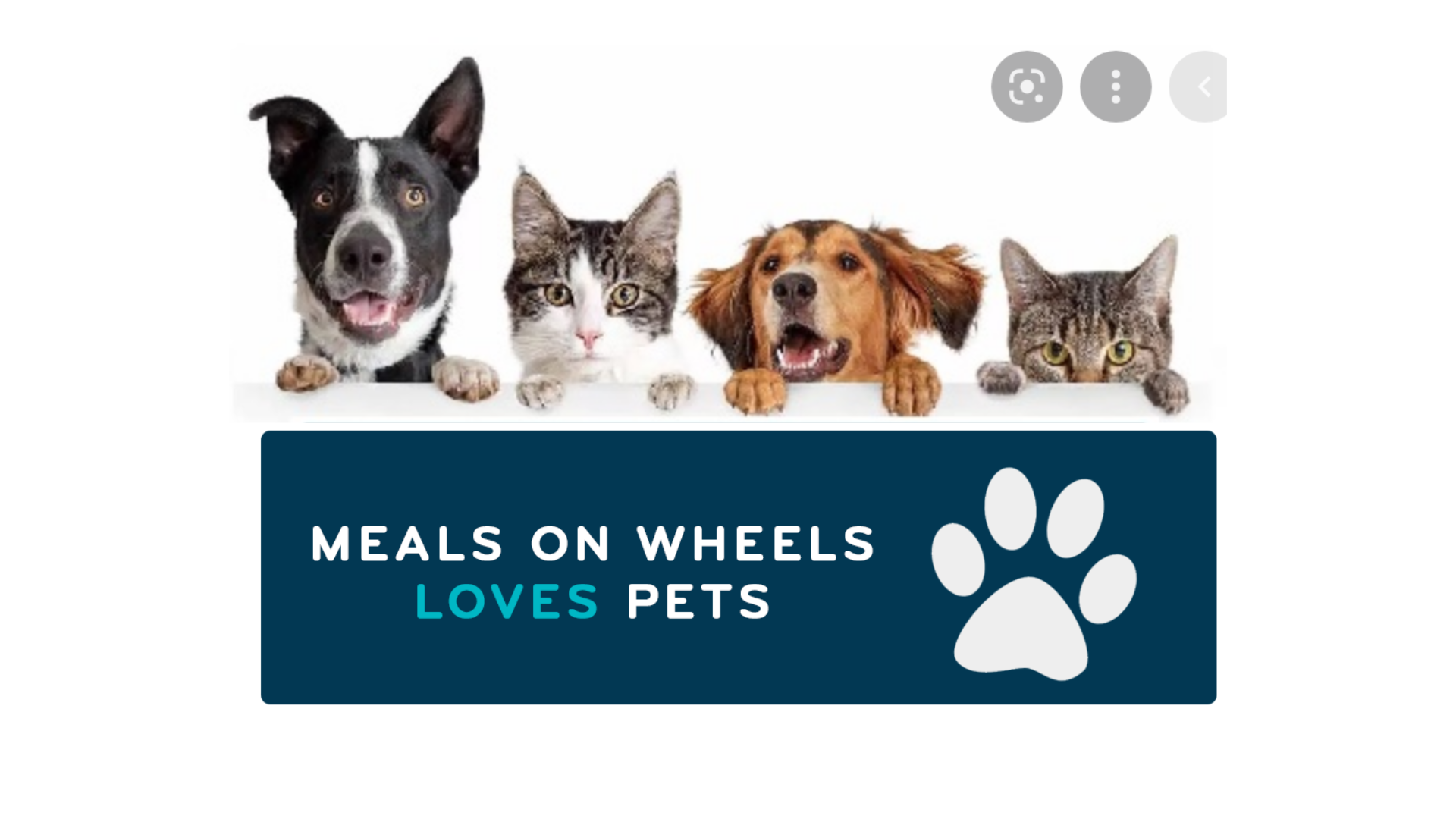 PETSMART CHARITIES® AND MEALS ON WHEELS AMERICA DISTRIBUTE MORE THAN $600,000 IN GRANTS TO SUPPORT SENIORS AND THEIR PETS
ARLINGTON, Va. / Meals on Wheels America
Meals on Wheels America is proud to announce that the Meals on Wheels Loves Pets grant program, supported by PetSmart Charities, has distributed $601,538 in grants to support senior nutrition program pet services nationwide. Funding will be used to provide Meals on Wheels clients and their pets with food, supplies, grooming and improved access to veterinary care, all of which can often present financial and physical challenges for older adults to manage on their own.
This partnership with PetSmart Charities is part of Meals on Wheels America's strategic effort to combat social isolation and loneliness among seniors across the country and has helped nearly 17,000 Meals on Wheels clients remain at home to age in place with their beloved pets. This year, Meals on Wheels America and PetSmart Charities awarded grants to 79 local Meals on Wheels programs through the Meals on Wheels Loves Pets initiative.
One in four seniors lives alone and, for many of them, their pet is their closest companion. In fact, recent research made possible by PetSmart Charities and released in June shows that nearly 100 percent of Meals on Wheels clients receiving pet services report that their pet brings happiness to their life. Seniors with pets are less likely to exhibit depression, report feelings of loneliness and experience illness. However, clients with pets often face financial or transportation barriers to securing adequate pet care, and many may forgo their own personal care in order to provide for their pets.
"Having the company of a pet not only makes homebound seniors feel less lonely but also improves their physical and mental well-being, helping them to stay happier, healthier and more independent. Yet, nearly half of the clients receiving pet assistance from Meals on Wheels don't have anyone else to help them with their pet needs," said Meals on Wheels America President and CEO Ellie Hollander. "That's why we're so appreciative of our growing partnership with PetSmart Charities – it makes it possible for us to continue to invest Meals on Wheels Loves Pets grants in local Meals on Wheels programs in 31 states to provide critical supplies, care and assistance."
"As an organization dedicated to supporting pets and the people who love them, PetSmart Charities is proud to continue partnering with Meals on Wheels America to help provide essential services to seniors and their pets," said PetSmart Charities President Aimee Gilbreath. "We know there is a large population of seniors experiencing financial challenges caused by the pandemic and facing the difficult choice of caring for themselves or their beloved pet. This partnership helps ensure they won't have to make that choice."
For more information on Meals on Wheels America's efforts surrounding older adults and their pets, please visit https://www.mealsonwheelsamerica.org/connection. For more information on PetSmart Charities, please visit www.petsmartcharities.org.
ABOUT MEALS ON WHEELS AMERICA
Meals on Wheels America is the leadership organization supporting the more than 5,000 community-based programs across the country that are dedicated to addressing senior isolation and hunger. This network serves virtually every community in America and, along with more than two million staff and volunteers, delivers the nutritious meals, friendly visits and safety checks that enable America's seniors to live nourished lives with independence and dignity. By providing funding, leadership, education, research and advocacy support, Meals on Wheels America empowers its local member programs to strengthen their communities, one senior at a time. For more information, or to find a Meals on Wheels provider near you, visit www.mealsonwheelsamerica.org.
ABOUT PETSMART CHARITIES®
PetSmart Charities, Inc. is committed to finding lifelong, loving homes for all pets by supporting programs and thought leadership that bring people and pets together. Through its in-store adoption program in all PetSmart® stores across the U.S. and Puerto Rico, PetSmart Charities helps to find forever homes and families for more than 600,000 shelter pets each year. Each year, millions of generous PetSmart shoppers help pets in need by donating to PetSmart Charities using the PIN pads at checkout registers inside PetSmart stores.  In turn, PetSmart Charities efficiently uses more than 90 cents of every dollar donated to fulfill its role as the leading funder of animal welfare in North America, granting more than $450 million since its inception in 1994. Independent from PetSmart Inc., PetSmart Charities is a 501(c)(3) organization that has received the Four-Star Rating from Charity Navigator, a third-party organization that reports on the effectiveness, accountability and transparency of nonprofits, for the past 17 years in a row – placing it among the top one percent of charities rated by this organization. To learn more visit www.petsmartcharities.org.
Follow PetSmart Charities on Instagram: @PetSmartCharities

Follow PetSmart Charities on Twitter: @PetSmartChariTs Find PetSmart Charities on
Facebook: Facebook.com/PetSmartCharities
See PetSmart Charities on YouTube: YouTube.com/PetSmartCharitiesInc