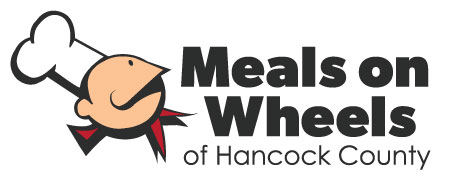 If ever there were a way to describe new Meals on Wheels of Hancock County client Matt, it would be "he has never met a stranger."
That's certainly the case for the volunteer drivers delivering and doing weekday well-checks for Matt each weekday.
"The people involved are just the best people," he says. "They have a great sense of humor, and it's just wonderful that they know me by my first name. The delivery folks are not strangers to me."
In fact, Matt has formed many friendships with volunteers since starting deliveries in February after the urging of his neighbors. He enjoys when couples deliver so he has additional conversation with both.
"We always have a chit-chat about life, and especially my dogs (Yorkies)," Matt says. "The folks take time to meet and greet us. We chat, and they're very conscientious about following up."
Matt enrolled in the Meals on Wheels program after a car accident in January that left him homebound for several weeks. He blacked out while driving, totaling his truck that was nearly paid off and breaking his wrist.
He also had an accidental fall off the porch and neighbors helped put in a ramp to lessen his fall risk. Meals on Wheels was a much-needed resource as Matt healed from his injuries and remained safe at home.
"I was scared, and I took myself off the road in May. I like the deliveries because they're balanced meals. And first of all let me say I'm not a cook. And I'm not going to be a cook," he says. "I like the main courses, just not the Brussels sprouts."
The 80-year-old veteran, who served on nuclear-powered submarines in the Navy, also isn't a fan of onions, a vegetable he had to pick as part of his childhood chores growing up in Long Island.
He prefers his green beans prepared without onions, something he says people hardly do on the East Coast, and his meals without the Brussels sprouts. And those are his only grievances.
Matt is mostly thankful for what the program has brought to his life and overall health and well-being.
"In February, I found out I have diabetes and high cholesterol, so I'm on an 1,800-calorie diet. I'm sure if I would have done Meals on Wheels starting back in 2019, I wouldn't have those issues," he says.
He credits Meals on Wheels of Hancock County for setting him on a healthy course while aging. "When you hear the name Meals on Wheels, you think you might know what it's about, but do you really know what they can do for you?" he says. "I know what they did for me, and my life would be a whole lot better if I would have signed up earlier. The meals are very delicious and economical."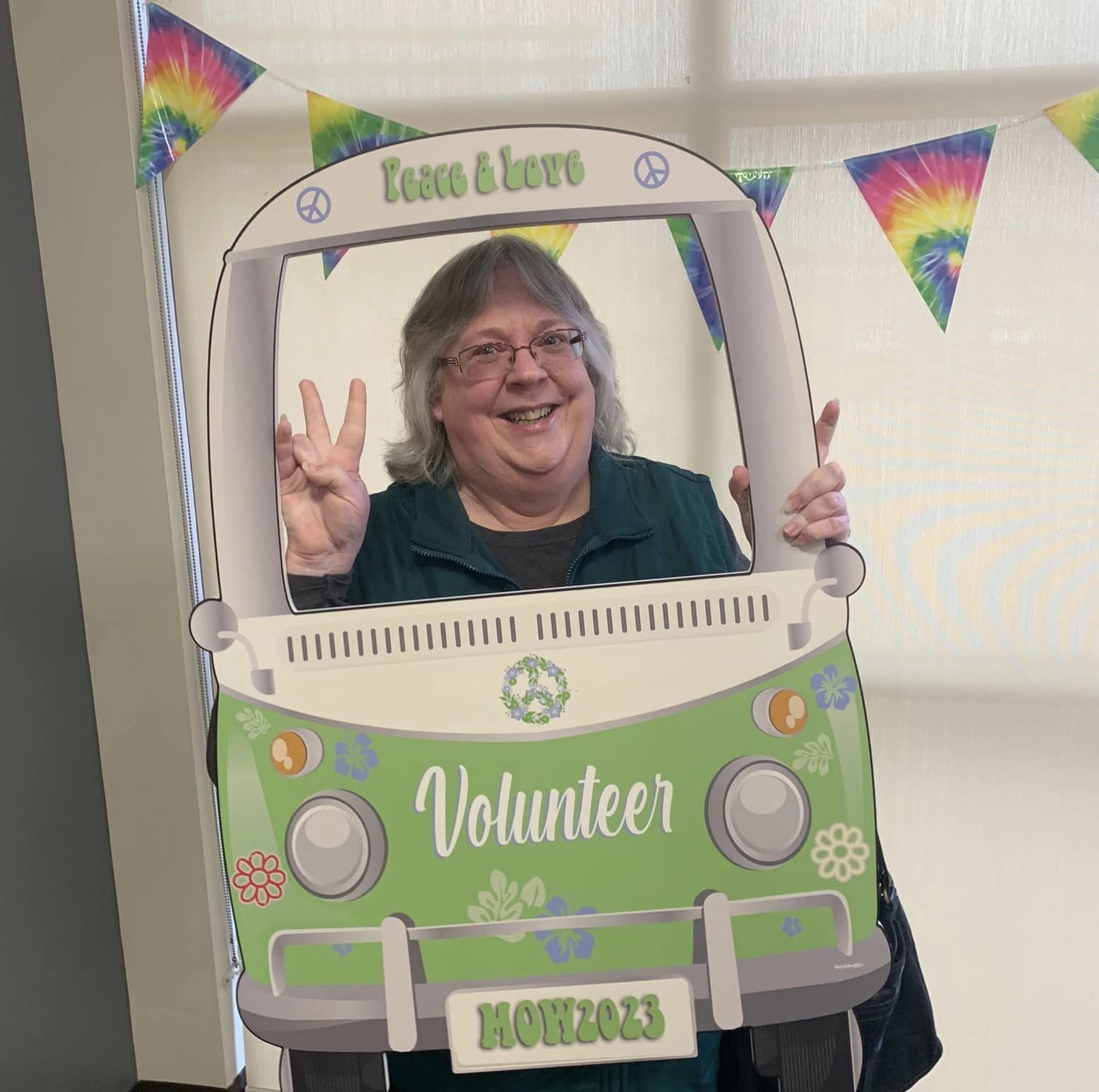 When Meals on Wheels of Hancock County volunteer Trish Mendez delivers to clients on her routes, her work with Random Acts of Flowers Indianapolis comes into play to brighten their days with bouquets.
One client with cancer, whose son died of COVID last spring, had been isolated and depressed.
A small bouquet made all the difference.
"She was really, really depressed," Trish said. "That's not something you just get over. She limits contact because of her compromised immunity and doesn't come to the door. I thought by bringing her flowers, that could perk her up. I just try to do that every two or three weeks."
Another client feeling especially isolated was extremely delighted to receive her surprise bouquet.
"She said, 'I haven't got flowers in so long,'" Trish said. "It made her so happy."
Random Acts of Flowers' mission is to improve the emotional health and well-being of individuals by delivering recycled flowers, encouragement, and personal moments of kindness. That mission inspired Trish to combine it with Meals on Wheels of Hancock County's goal of preventing isolation and loneliness in the aging community.
"It's just a cool thing," Trish said. "It just shows you how something that is going to be thrown out can be used for happiness. It's such a worthwhile charity."
On days Trish isn't delivering Random Acts of Flowers bouquets, she stops by a local supermarket that sells flowers to treat neighbors on her Meals on Wheels routes.
"I just pick up flower bouquets and split them up," she said. "It's just $10 bucks, so why not?"
Trish said it's the surprise factor that really makes people's days.
"Sometimes the surprise of getting something like that is all they need to cheer them up," she said. "I just tell the ladies if you get the vases back to me, I'll bring them back with flowers. It's a full circle."
Trish's clients, especially those battling health issues and experiencing loneliness, have a whole different outlook on their day when receiving meal deliveries.
"Everybody is happy to see me," Trish said. "Sometimes you're the only person they see that day. It's fun to say, 'Here's your meal, and here's your flowers.'"
The flower deliveries help Trish, too.
"Personally, I like that they are happy to see me," she said. "My problem is there's not enough time to volunteer. I'm busier now than when I worked, but that's fine!"
Trish recently found that her flower deliveries were not only great pick-me-ups for Meals on Wheels' clients, but also staff, including Packing Coordinator Michelle Elsbury.
"I gave Michelle flowers because she said something about her mom being sick," Trish said. "She needed some happiness. And flowers do not cost that much."

Lifesaving. That's how one Meals on Wheels of Hancock County client describes the impact our medically tailored deliveries have made on her since enrolling in the program this year.
"Arthritis has plagued my family for years, and now, in my 60s, I'm to the point where I can no longer drive or work," she said. "And I cannot cook for myself."
This client came to the Indy area 10 years ago to help care for her elderly parents. She also had a brother and sister who were ill. Over the years, she has worked as a certified nursing assistant, home health aide and companion caregiver. Her experience working with seniors in their homes informed her about the benefits of Meals on Wheels programs.
"I used to work with clients in their homes, and saw first-hand how much the meals helped," she said. "The volunteers are so kind and wonderful, and I appreciate the calls, and we text when I might not be able to get to the phone right away."
Chronic arthritis pain and a cancer diagnosis has made daily life a challenge. Arthritis makes it especially difficult to stand for any period of time. Her mobility is challenged on the daily, and fear of falling is a constant concern.
"I have arthritis in both of my ankles, both of my ankles, in both of my knees and hips. From my waist down, I don't work very well," she said. "I'm so afraid of falling because my knees lock up on me. I worry if I fall in the kitchen, I can't pull myself up. I have a big fear of falling."
Cooking even a small meal has been difficult. She often has cereal on hand since she said pouring a bowl is sometimes the easiest. Just to stand at the stove or kitchen sink can be hard. With this in mind, and knowing how much Meals on Wheels helped her former home healthcare clients, she gave Meals on Wheels of Hancock County a call.
"I just can't stand at the stove to make something great. Every once and awhile I can," she said.
Meals on Wheels weekday deliveries also help since she's on a limited budget.
"I don't make a lot of money in my retirement," she said. "Meals on Wheels has been a lifesaver for me. I can get two meals a day. I'm very grateful for Meals on Wheels. For a long time I was afraid I would starve to death. I now no longer have a fear of starving. It's just been a lifeline for me."